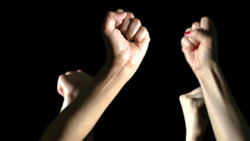 Luggage Store Projection Space is proud to present Concrete Action, a program with works created by San Francisco Art Institute's Advance Video Class (Instructor: Julio Cesar Morales)
Concrete Action is a video program by emerging San Francisco-based visual artists that focuses on a psychological video compilation about the politics of representation, absence, voyeurism, quotidian aspects of life, and visual artifacts of urban identity. Featured videos include Alexis Courtney ˜s video that reverses the gaze in a voyeuristic manner as a way to actualize the desire for companionship. This video by Emily Gorman video analyzes the relationship between artist and camera, this exchange marks a volatile and dominating gesture manifested as a physical violence towards the camera. Smith Smith™s work is in advance of the May 1st general strike, Untitled (Concrete Action) is a motivational piece meant to inspire action through gestures associated with resistance. In "Seeing God" Sean Kennedy analyzes the cult of personality and also addresses the exchange of shelter for spiritual persuasion.
Bios:
Piotr Bujak is a mixed media artist and visual activist, born in Bedzin, Poland, currently residing in San Francisco within the Fulbright Fellowship. He works mainly with video and video installations investigating how moving image may contribute to understanding the origins of violence and identity and how visual culture reshapes the way abovementioned are being perceived in the era of mass media omnipresence. His art practice often refers to minimalism and could be framed as a very formal and abstract storytelling.
Alexis Courtney is a multi-disciplinary artist exploring issues of absence, voyeurism and companionship in both photographic and video formats. Her work draws heavy influence from personal experiences growing up on the east coast. She currently lives in San Francisco, CA where she is a candidate for a Master of Fine Arts from the San Francisco Art Institute in 2013, she received her BFA from the Rochester Institute of Technology in 2006.
Francesca Du Brock is a multimedia artist originally from Alaska who has lived and worked throughout the United States and South America. Her work ranges from painting to drawing, video, sound, etc., and explores concepts related to exile, homeland, displacement, and memory. She holds a B.A. in Art History from Bowdoin College and is currently pursuing an M.F.A. at the San Francisco Art Institute.
Emily Gorman analyzes the concept of identity, and the body in space through the lens of pop culture. Working primarily in video, her influence is rooted in a purely retro aesthetic paired with a new translation of contemporary issues. Emily manipulates the relationship of artist and studio through use of minimal materials, in-camera editing, and an isolation of the individual. The romantic view of the studio is juxtaposed with an erratic range of interactions with the camera. The idea of performance for camera is criticized through a sometimes passive, sometimes violent back-and-forth between artist and material (camera). Materials are sparse (post-it flags, a 40-Oz. of malt liquor), and denote a specific reference or current symbol. Placed with only figure, and environment, these materials become central to the essential gesture occurring in the work.
Henry Gunderson™s art practice is a digestive process like that of a stomach. The stomach playing a key role in the creative process of ingestion, digestion, and excretion creates work existing as a left over byproduct and physical evidence of thought in various forms of visual artifacts. He was born in San Francisco, CA holds a BFA in painting from the San Francisco Art Institute
Jx Marie LaGrange is a New Modernist and a Romantic living and working in San Francisco. She is a Propagandist, producing photographs, prints, and transmissions for the benefit of times to come. Jx Marie is in Love with Love, Beauty, and Rock n™ Roll and is completely shameless about it.
Eli McNally works in many mediums, including installation, print, video, performance and drawing. Most of his video art consist of amature videos from youtube that include moments of awkwardness, sadness, or isolation of people attempting to control time. Eli is a freshman at SFAI.
Smith Smith is a video and performance artist hailing from the Washington D.C. area. Since moving to San Francisco in 2009 their work has addressed themes ranging from sexuality and gender identity, to internet pop culture and Metal subculture. By using their own body, Smith is able to address identity, gender stereotypes, and the politics of representation that transcends the autobiographical nature of the work. Smith has shown at The OffCenter, Queens Nails, and at the San Francisco Art Institute where they will be receiving their BFA in New Genres this May.
Javid Soriano is a filmmaker interested in recording the quotidian aspects of life. His documentaries can be seen as meditations on weather, dreams and styles of dwelling in urban and wildlife settings. He is currently an MFA Film candidate at the San Francisco Art Institute.
Linsey Wallace is an installation artist exploring the notion of multi-sensory and experiential art as a lens with which to frame the spirit of a moment.
Participating in the colorful trash avant-garde of her native Providence RI and referencing power-object archetypes from her background in African art history, Linsey transforms consumer detritus into enchanted plastic environments. She holds a BFA in Sculpture from Maine College of Art and is an MFA candidate at San Francisco Art Institute. Linsey has worked in New York, Providence, Boston, Maine, Melbourne, Nigeria and California. She currently lives and works in San Francisco, CA.
Zack Wilkie is interested in creating psychological video installations that attempt to deconstruct and demistify the digital process of art-making. In his most recent projects he has been working in a backwards manner in order to strive towards something as he calls œmore intimate and more human. He is currently an undergraduate student at the San Francisco Art Institute.