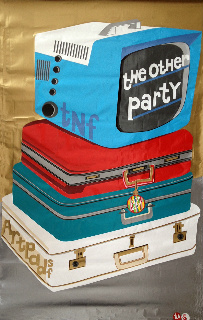 Luggage Store Gallery in association with ArtPadSF is pleased to present:
the OTHER PARTY –
a mixed media art, food ,performance event to take place within the fabled
TENDERLOIN NATIONAL FOREST 
Saturday night May18th, 2013
7 to 10:30 pm
509 Ellis Street ( btw Hyde&Leavenworth)
Featuring:
ï'·       CANDY PAINT " An exhibition of paintings, drawings, installation and  pop-up store by Michelle Guintu, Rye Purvis, Yarrow Slaps.
ï'·       FRESH FROM THE OVEN -TNF Artist-in-residence Amara Tabor-Smith  celebrating food as a means of cultural exchange – featuring baked pizza and nan from the TNF cobb oven and other foodie delights.
ï'·       SEWING FOR THE PEOPLE " Artist-in-residence Michael Swaine will sew on Fourth Edition Tenderloin National Forest patches for event attendees.
ï'·       LUGGAGE STORE GALLERY TRUCK " Ricardo Richey(the Apexer) will paint the vintage '69 VW Luggage Store Gallery truck which will be exhibited in front of the Forest.
ï'·     DJ Siobhan Aluvalot and Xara Thustra present: LOVEWARZ! art storytelling performance creative collaborative painting dance fashion actions " a traveling show turning out audiences far and leaving mouths hanging wide" .
ï'·       FILM SHORTS " Co-Curators Darryl Smith and Laurie Lazer have selected several short films that will be projected outside in the Forest, featuring work by Rye Purvis, Brontez Purnell,Spencer Keeton Cunningham, Erlin Geffrard, Gabby Miller & Stevie Ann DePaola, LOVEWARZ, Martha Trayer, Drone Dungeon Collective, LeslieTom with Julia Schmidt and Marisha Farnsworth.
ï'·       P-PLANTER – Hyphae Design Laboratory have designed a public urinal and sink that uses modular biofilters to treat urine and wastewater. The P-planter will be stationed at the TNF through June 2013 and then will travel to another publicly accessible site within the Tenderloin.
ï'·       ARTPADSF BANNER " Collaborative visual artist team t.w.five (Pernilla Anderson & Paula Pereira) will create a large scale banner that will span the width of the Forest.
Event support in part provided by: Zendesk , the Walter and Elise Haas Fund(Cultural Commons

     Program) and Arizmendi Bakery 9th Ave.