THE BAY AREA™S FIRST MAJOR EXHIBITION OF HAWAIÊ»I ARTISTS
Tropical Disturbance: a guide to place making and contemporary art in Hawai˜i featuring the work  of DB Amorin, Alison Beste, Sean Connelly, Ara Feducia, Sally Lundburg, Dana Paresa, Maya Lea Portner, Lawrence Seward, Keith Tallett, and Lynne Yamamoto. Conceptualized and curated by Trisha Lagaso Goldberg.
OPENS Friday JAN. 19, 6:00-9:00 p.m. :
with performances by Kumu Hula Patrick Makuakāne and members of his hula troupe, Nā Lei Hulu I Ka Wēkiu, and Kumu Hula Alena Heim of Honolulu hula group Hālau Hula Kamaluokalauaʻe FREE (donations appreciated)
Through February 23, 2018, gallery hours: Wednesday – Saturday 12-5pm and by appointmen
FILM SCREENING:
Kai Walea: A Short Film Program on Women x Surfing
Sunday, January 21, 3:00-5:00 P.M.,
Three films featuring powerhouse women who surf tackle the question, œWhose wave is this? Q & A with filmmakers follows the film screening.
Her Wetsuit By Richie Biluan, Christina Delima, Michelle Yokota (2017, TRT 8:00)In this short documentary, Michelle shares her response to an unexpected diagnosis with Systemic Lupus Erythematosus (SLE) in 2012 and the need to connect with something greater.  For those with the condition, sun exposure can be detrimental"causing flare ups, joint pain, physical exhaustion, and brain fog. While Michelle learns to adapt to life with this incurable autoimmune disease in sun-drenched Hawaiʻi, she finds solace"and a solution to her dilemma"in her wetsuit.
Swimming in the Deep By Sally Lundburg (2017, TRT 10:00)
At 33, Uʻilani Macabio is a public school teacher, a mother of two young children, and a tenacious surfer. Firmly rooted in honoring the traditions and practices of her culture, this short documentary explores her beliefs, frustrations, memories, and bliss as she moves through daily life. Uʻilani dances an ancient form of hula, speaks the Hawaiian language with her children, surfs the rough waves of her remote homebreak, and works to instill passion in her students. These are all ways in which she honors her ancestors while facing the challenges of life in contemporary Hawaiʻi.
This is Living with Cancer: Sachi™s Story By Sachi Cunningham (2017, TRT 4:32)
This is Living with Cancer: Sachi's Story is a short film about big wave water photographer Sachi Cunningham's journey with fallopian tube cancer. After being diagnosed BRCA1 positive, Cunningham had a prophylactic bilateral mastectomy and total hysterectomy, after which a two-millimeter tumor was discovered in her fallopian tubes. Cunningham went through six rounds of chemotherapy following the surgery to kill any remaining cancer cells. This video was filmed during her recovery, after she returned to the water for the first time following her final breast reconstruction surgery.
From the lauded restaurant Liholiho Yacht Club to the acclaimed Hawaiian dance company Nā Lei Hulu I Ka WÄ"kiu, Hawai˜i talent has a creative foothold in the Bay Area. Yet Hawai˜i artists often work in virtual isolation"far from the conventional centers of contemporary art. This exhibition, the Bay Area™s first group show of critical contemporary art by artists of HawaiÊ»i, sets out to increase access to these stories of a place that was a nation before it became a state.
The exhibition brings together work by 10 contemporary artists with ties to Hawai˜i who challenge popular representations and views on the so-called Aloha State. The title of the exhibition takes inspiration from an essential aspect of island life: its weather.
As a storm turns into a hurricane, it goes through several phases of intensity with a tropical disturbance as its first stage of birth. A disturbance is defined by sustained atmospheric conditions of difference (temperature, moisture, wind), which generate hotspots of activity (storms) that can be mapped across a particular geographic area. Presented here is an active convection cell of ideas and positions centered on Hawaiʻi.
The selected artists regard Hawaiʻi in terms of cultural practice and identity, autobiography and ancestry, nationality, immigration, watershed issues, ecology, global flows of goods and capital, its plantation-era history, and status as a famed tourist destination.
Their works, many of them made expressly for the show, reflect an energy and tension that is meant to highlight the complexity of Hawaiʻi.
DB Amorin
DB Amorin is an artist from Honolulu, Hawai™i currently living and working in Portland, Oregon USA. He typically works within video, expanded audio and augmented environments, drawing upon DIY methodologies and using lo-fi or open source technology.
"As an artist born in Hawai˜i of Azorean-Samoan heritage, I am interested in the unique frame of reference diasporic identity manifests and how it can be translated visually. There is a specific dysphoria that emanates from an island and lingers in its people, a sensation permanently embedded in one™s genetic material. By capturing footage of ocean surf at the origins of my cultural and ethnic heritage, a space of suspension between a past and future self is formed. An ontological tension is revealed through multiple views of the ocean surf from Hawai˜i and Portugal, caught midway between submerged and afloat, an unflinching perspective that glides from crest to trough in perpetuity. The misuse of technology, lo-fidelity reproduction, and data loss become aesthetic containers for the discordant nature of intersectional identity (Polynesian, queer, digital) and directly inform my most recent experimental video practices, which aim to magnify distortions of perception and manufacture what I refer to as a dissonant ethnography."
Alison Beste
The scientific term, œlight trespass, describes unnecessary or unwanted light exposure at night. The Light Trespass photography series investigates the ongoing impact of human light pollution on the landscape of O'ahu. The images exposes luminous and eerie expanses of artificial light from O'ahu™s buildings, streets, and structures as well as Kaneohe Marine Base. Extending the camera™s shutter for one to ten minutes renders the illuminated sky as a mysterious color gradient and makes visible the expansive impact light pollution has on the surrounding environment, often unbeknownst to those immersed inside its glow. From the vantage point of
Molokai, Oahu™s light pollution appears as a looming, hovering form along an otherwise dark horizon.
Light Pollution: View from O™ahu No. 1 reveals a significant human presence on the HawaiianIslands. In an age of increasing and uncertain environmental changes, Light Trespass questions humanity™s relationship to nature and considers the unwitting yet profound impact of generating artificial light where there naturally would be darkness. By exposing artificial light™s ability to shape the landscape, these images also signify human disruption of the environment.
Sean Connelly
Sean Connelly is a Pacific Islander American designer, creative producer, architect, artist, urban ecologist, and educator born on O˜ahu in 1984 and raised around Kona and Ko˜olaupoko. He works collaboratively across the East Coast, Southwest, and Pacific. He holds a Doctorate of Architecture from the University of Hawai˜i and a Master in Design in Landscape, Urbanism, and Ecology from Harvard University (with concentrations in Real Estate Development, City Making and Urban Economics).
"I chose to pursue architecture as a career path in college with a belief that buildings should be designed with its surroundings in mind. I wanted to keep my home Hawai˜i a beautiful place. As such basic ideas expanded to encompass notions of form, cycle, and gradient, architecture became a pathway to study the built-environment in terms of material, system, ecology, and justice; it became a venue for criticism and creation. Art and Design provide tremendous potential to query and convey feelings of society, mind, and environment as they occur in time and in space. Considering adjacent interactions with other fields like geology, biology, and linguistics, architecture emerges scientifically and becomes a multitude of disciplines and scales within and around which I am grateful to operate."
Ara Feducia
With eighteen years of experience promoting and curating design, music, and art in Hawai˜i, Ara Feducia brings a deft style as the creative director of Nella Media Group. Between deadlines, Ara periodically serves as a design and typography lecturer at the University of Hawai˜i at Manoa and can often be found volunteering for local non-profit groups who support Hawai˜i's arts and culture community.
Sally Lundburg
Sally Lundburg creates installations, sculpture, mixed media paintings, videos and films that reflect on history, culture, place, and belonging. She has shown in galleries and museums in Hawai˜i and San Francisco and in film festivals both nationally and internationally. Her feature length documentary film, One Winter Story received numerous awards including the St. Jean du Luz International Surf Film Festival Grand Prize Award for Best Film (France), and the Bronze Shell Special Jury Prize, Best Script Prize and Spanish Olympic Committee Special Award at the Santander International Sports Film Festival (Spain). Sally™s recent exhibitions include The Rat & The Octopus, at the Maui Arts and Cultural Center™s Shaefer International Gallery; CONTACT, at The Honolulu Musuem of Art School; and Rockaway!, at Rockaway Surf Club in New York (in partnership with MOMA PS1 & The Honolulu Biennial).
Working title: Swimming In This Deep Ocean
At 33, Uʻilani Macabio is a public school teacher, a mother of two young children, and a tenacious surfer. Firmly rooted in honoring the traditions and practices of her culture in everything she does, this short poetic documentary explores her beliefs, her frustrations, her memories, and her bliss, as she moves through her daily life. She dances an ancient form of hula, speaks the Hawaiʻian language with her children, surfs the rough waves of her remote homebreak, and works to instill passion in her students. These are all ways that she honors her ancestors while also facing the realities and challenges of life in contemporary Hawaiʻi.
Dana Paresa
Dana Paresa was born in Kailua, O™ahu in 1987. She earned her bachelor™s in studio art at the University of Hawai™i. Much like before college, today she makes coffee for people who go to college with other people who have already been to college. She has worked as a freelance illustrator in the past, contributing to several publications (Bitch, Complex), but currently makes a body of personal work. Often, Dana can be found connecting pieces of wood, and touching cats that aren™t hers. She currently lives and works in Portland, Oregon.
"These pieces call upon greco-roman classical artwork tropes, so that the viewer has a familiarity with it. By replacing the people with aunties / local ladies, I am putting Hawaiians in a recognizable historical context."
Maya Lea Portner
My work results in objects and images that aim to strike a balance materiality and meaning. Rooted firmly in drawing, my practice involves combinations of the following: papermaking,
paper cutting, paper folding, drawing, sewing, sculptural construction and printmaking. I draw directly from the geometry of urban map lines and spaces. The connotations of cartography are of importance " land divisions, paths of travel, immigration, cultural identity, location of resources.
"For the sculpture A City in Pieces, I worked directly from satellite imagery of Honolulu on Google Earth, forming the patterned structure based on the shapes of buildings, trees, streets, hills and mountains recorded from a distant, aerial view. I draw without measuring and through the imprecision of my translation of visual information " the mark of my hand " I personalize the aerial view that pretends technical objectivity.
This work represents an inquiry into the often-held conception of the city in opposition to nature, because I also want to understand the city as an extension of human creation and therefore ultimately a product of nature."
Lawrence Seward
Born and raised in Honolulu, Seward presents a body of work featuring sculptures made in collaboration with Ghanaian coffin maker Paa Joe, and a series of "paper lei" paintings.
The sculptures by Paa Joe and Seward feature handcrafted wooden coffin maquettes of Hawaiian reef fish. Each fish, carved and painted by Paa Joe, embodies the African artist™s spirit, and appears as his stylized version of fish we all know well. Aside from a metaphorical carrying of a soul, each fish carries in them Mary Jane molasses and peanut butter candies, treats for visitors to take as bitter sweet reminders of the September 2013 Honolulu molasses spill.
Seward has chosen to mount the fish on bases resembling petrified coral heads, custom made primarily
from Styrofoam. With these bases, Seward employs a craft for rendering, with realism and stylization. The faux coral bases might be seen as a comment on œfake representations of the real that have in some cases come to represent a kind of parallel paradisal reality in Hawaii. Think of the transformation of the beachfront to accommodate a conditioned tourist.
Complementing this questioning of reality, each coffin model has made its way from concept to completion through a network of communications including the Internet, specifically Facebook, a series of online payments via Western Union, and of course a global shipping network. The fantasy, starting in Hawaii as a concept, returns three months later from Ghana as Paa Joe™s Fantasy Coffins, stylized versions of the actual fish found in Hawai™i™s waters.
Addressing current issues through his work, Seward touches on cross cultural pollination, Global
networking, tourism, environmental catastrophe, resource depletion, and the loss of the œreal in
contemporary culture. There is an exciting connection between the local and the global, and the recourses for exploring or exploiting such connections become more readily available everyday, although, as Seward may be pointing out, not without a cost.
Keith Tallett
Keith Tallett is a mixed media artist who was born and raised in Hilo, on the Big Island. He is also a second generation surfboard shaper and tattoo practitioner of traditional Polynesian patterns. The process of making art for him becomes a way of creating dialogue between his cultural knowledge and practices, and his investigations as a contemporary artist. Keith has an MFA from the San Francisco Art Institute and a BA from the University of Hawaii at Hilo. He has exhibited at such venues as the Yerba Buena Center for the Arts in San Francisco, Track 16 Gallery in Los Angeles, and Franklin Parrasch Gallery in New York. His professional experience includes lecturing at the University of Hawaii at Hilo Art Department from 2004 " 2011 as well as being a founding member of AGGROculture, a Hawai˜i based art collective. Keith was included in the 2011 Artists of Hawaii exhibition at the Honolulu Museum of Art where he received the Jean Charlot Foundation Award for Excellence. He was also awarded a 2011 Cultural Apprenticeship Grant through the Folk Art Program at Hawaii State Foundation on Culture and the Arts, and most recently, a 2013 Joan Mitchell Foundation Sculptor and Painter Grant.
"My jumping off place for this work was a recent news story about a Big Island coffee farmer who has been deported , and through it I reference our countryʻs recent immigration policies as well as the practice of giving flower arrangements for loss and sympathy. The work consists of a floral arrangement on a pedestal in the gallery, with botanticals sourced in both Hawaii and San Francisco, and tattooed with words in Spanish."
Lynne Yamamoto
Lynne Yamamoto received a B.A. in Art from The Evergreen State College in Olympia, Washington, and an M.A. from New York University. She participated in the Whitney Independent Study Program and Skowhegan School. She was selected for the National Studio Program at P.S. 1, and residencies at Urbanglass, Brooklyn; Banff Centre for the Arts; Sirius Arts Centre, Cobh, Ireland; Civitella Ranieri, Umbertide, Italy, an Arts/Industry Residency at Kohler Company, Wisconsin, and a residency at the Taipei Artist Village in Taiwan. She is a Professor in the Art Department at Smith College in Northampton, Massachusetts.
Kumu Hula Alena Heim
Hālau Hula Kamaluokalaua'e
Alena Kealohilani Heim is the founder and kumu hula (hula instructor) of Honolulu-based dance troupe Hālau Hula KamaluokalauaÊ»e. From the late-eighties through early-nineties, Heim danced with venerated Kumu Hula Leimomi Ho of KealiÊ»ikaÊ»apunihonua KeÊ»ena AÊ»o Hula"during which time she performed with her hula hālau (hula troupe) in the internationally acclaimed Merrie Monarch Festival hula competition. Heim has studied with the revered Kumu Hula Mae Kamāmalu Klein of Hālau Hula KÅ«kalehuaikaohu since 1994. In 2000, she began extensive training with Kumu Klein in preparation for the intensive ʻūniki (graduation) ceremony, which culminated in 2003 when she was conferred the status of kumu hula.
Kumu Hula Patrick Makuakāne
Hālau Hula Nā Lei Hulu I Ka Wēkiu
Patrick Makuakāne, Director and kumu hula of San Francisco-based dance group Nā Lei Hulu I Ka Wēkiu, Makuakāne is well known for his innovative choreography. While his work is grounded in the fundamentals of hula and Makuakāne works to keep traditional dances intact, his signature style of hula (called hula mua) uses modern music to provide a new dimension to the poetry of this native Hawaiian dance form. Born and raised in Honolulu, Makuakāne began dancing at the age of 13 and went on to study with some of the most recognized hula teachers, including John Keola Lake and Robert Cazimero. In 2000, he began intensive traditional studies with Kumu Hula Mae Kamāmalu Klein and in 2003 was conferred the status of kumu hula.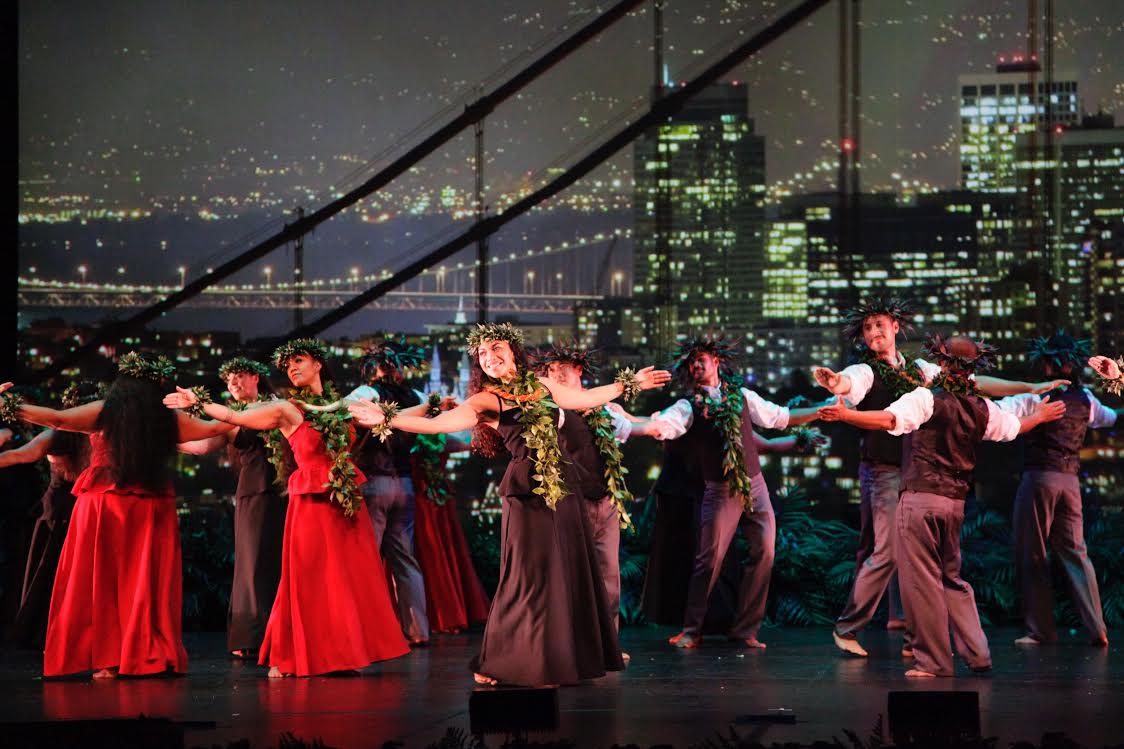 kaona 1. n. Hidden meaning, as in Hawaiian poetry; concealed reference, as to a person, thing, or place; words with double meanings that might bring good or bad fortune.
APOCALYPSE PAU
EDITOR'S NOTES
David A.M. Goldberg
"These writings don™t explain Tropical Disturbance, or Hawai˜i. They are meant to elucidate, complicate, ornament, harmonize and maybe even indirectly contradict the work. The writers represent a range of voices that come from Hawai˜i™s lifestyle, arts and culture, academic, art historical and Hawaiian cultural discourses. Each writer was asked to engage œsense of place, which can be understood as a subjective relationship to a the temporal and spatial constraints of small islands, sometimes-antagonistic cultures, and the shared dimension of being in but not of the United States of America."
David A.M. Goldberg is an accomplished Hawai˜i based writer, teacher, programmer, curriculum and media developer who has used a lifelong interest in art, culture and technology to transform the means by which people access, assess and organize knowledge. He is a freelance art and culture writer whose work appears regularly in the Honolulu Star Advertiser, and has run in FLUX Hawaii, SUMMIT Magazine, Abstract and various blogs.
INVITED OR AVOIDED, TROPICS DISTURBED: AN INTERVIEW WITH EXHIBIT CURATOR TRISHA LAGASO GOLDBERG
Blaine Namahana Tolentino
"I stand behind indigenous Native Hawaiian self-determination, whatever you want it to look like, you folks decide. I can be behind that, but also have to occupy this space in which we all live now. Do I identify as a settler? Not necessarily. Hawai˜i is fraught with these kinds of complications."
Blaine Namahana Tolentino interviews Tropical Disturbance curator Trisha Lagaso Goldberg, offering readers an accessible overview of the spirit and intent behind the show.
TROPICAL DISTURBANCE PRESS RELEASE
SAN FRANCISCO, CALIFORNIA"From the lauded restaurant Liholiho Yacht Club to the acclaimed Hawaiian dance company Nā Lei Hulu I Ka WÄ"kiu, Hawai˜i talent has a creative foothold in the Bay Area. Yet Hawai˜i artists often work in virtual isolation"far from the conventional centers of contemporary art. This exhibition, the Bay Area™s first group show of critical contemporary art by artists of HawaiÊ»i, sets out to increase access to these stories of a place that was a nation before it became a state.
The Luggage Store Gallery, invites you to experience Tropical Disturbance: a guide to place making + contemporary art in Hawaiʻi. Conceptualized and curated by Trisha Lagaso Goldberg, an independent exhibition maker from Hawaiʻi, Tropical Disturbance opens January 19, 2018, and runs through February 23, 2018.
VIEWS FROM CONTEMPORARY HAWAI˜I: GLOBALIZED LOCALISM & ISLAND IMAGINARIES
Margo Machida
"Tropical Disturbance: a guide to place making and contemporary art in Hawai˜i provides a spirited and thought-provoking counterpoint to oft-prevalent notions of the island as an exceptional, even paradisiacal domain ostensibly sequestered from the world™s exigencies by the vast expanse of an oceanic realm."
Margo Machida provides the art historical context for Tropical Disturbance. She situates TD in relation to other recent Hawai˜i-focused art projects and discusses select artists and their work in terms of the unique contributions they make to current discourses of ecology, markets, indigeneity, the built environment and multiculturalism. Margo Machida is Professor of Art History (School of Fine Arts) and Asian and Asian American Studies (College of Liberal Arts and Sciences) at the University of Connecticut. Born and raised in Hawai`i, she is a scholar, independent curator, and cultural critic specializing in Asian American art and visual culture.
HERE THERE BE TIGERS
James Charisma
"Some would say that maybe not all this information is accurate. That I™m actually helping perpetuate lies and stereotypes. On the contrary, I know the truth: it doesn™t matter what you tell people about Hawai˜i if they™re not really listening."
James Charisma approaches misconceptions about the Hawaiian islands from a decidedly more sarcastic approach, playing with a rich tradition of satire that goes back as least as far as the legendary Rap Replinger. As he wryly blends facts with the fictions that locals confront as their mainland peers ask them about still living in grass huts, pay careful attention to the texture of reversals that he applies to the clichés and stereotypes culture and history in Hawai˜i. James Charisma has bylines in Playboy, VICE, Complex, Collider, Hi-Fructose, Paste, Thrillist, Inverse, and other publications. He is editor-in-chief of Abstract Magazine, the award-winning lifestyle and culture collectible print publication for Hawai˜i, and contributing editor of HONOLULU, America™s oldest publication west of the Mississippi.
HE HAWAI˜I AU
I AM HAWAIIAN
Noelani Arista
"I am an only child, raised by two always working parents in an urban setting. Basically, I was an alien from outer space. I was the girl going to œthe Hawaiian school: Kamehameha, the kula on the pu˜u, the Hawaiian City on the Hill. But I wasn™t really Hawaiian because they all talked pidgin and my speech didn™t match theirs."
Noelani Arista's intimate nano-memoir about growing up having her Hawaiianness challenged by family, peers, and foreigners alike flips the relationship of place to the perspective of someone moving through it. Many readers will identify with the complex dynamics of class and education playing off of each other, and recognize the seemingly universal mechanisms of colonialism at work. Noelani Arista is a Historian of Hawaiʻi and the U.S. Her research interests include Hawaiian governance and law, Hawaiian intellectual history, Historiography of Hawaiʻi, Colonialism and missionization, Native language archives and translation.
WISH YOU WERE HERE: AN OPEN LETTER TO THE HAOLE WOMAN WHO DROPPED IN ON THE LOCAL GUY IN WAIKĪKĪ
Matthew Dekneef
"The clash over manners and surf etiquette that occasionally bubble up in the water will leave most present unfazed. Disagreements in the water over whose wave is whose are essentially disagreements over territory, and this is nothing especially new or even all that exciting. They happen. What cut through most sharply"the phrase that made me take a more serious notice"is when you scoffed your sarcastic accusation with the egregious authority of œsomeone just visiting from California, and, rather loudly so as to make yourself heard by everyone at the break: So much for the Aloha spirit…"
Dekneef provides another local point of view, from the unique perspective of what might be understood as the "critical surf break." A common encounter on the waves turns ugly when two visitors assert their assumed privileges and exploit a generosity that is rendered invisible by their expectations. Dekneefʻs reflections and insights are like the fallout from Captain Cookʻs first encounters with Native Hawaiians, and they anticipate future encounters between those who call these islands home and those who are only passing through.
Matthew Dekneef is the managing editor of Nella Media Group, where he writes and edits Flux Magazine and Lei Magazine. He lives in Honolulu.
MEANING IN THE MULTIPLE: TROPICAL DISTURBANCE REFLECTS HAWAI˜I IN FLUX
Noelani Arista
"Can we see colors so newly emergent that they lack names? And as climates change and information moves at lightning speed through the air around us, do meanings ever coalesce into substance? Where does memory alight, how do we experience each other and ourselves in places whose meanings are always over determined or contested?"
As Alison Beste's light pollution illuminates the gap in space and memory that is the former location of the Kamehameha Bowl bowling alley, Noelani Arista crossfades to aother side of her cultural history with this portrait of transformation, loss and connection between the people of Hawai˜i and parts elsewhere. Noelani Arista is a Historian of HawaiÊ»i and the U.S. Her research interests include Hawaiian governance and law, Hawaiian intellectual history, Historiography of HawaiÊ»i, Colonialism and missionization, Native language archives and translation.
RECORDED HAWAI˜I (THEMES OF IMMERSION)
Blaine Namahana Tolentino
"The best Hawaiian dictionary was written by Mary Kawena Pukui and Samuel H. Elbert. Pukui, a Native Hawaiian scholar, put information into this document that is safely veiled and relentlessly dense…Tell me how a term for light, a color, and kinship are connected."
Blaine Namahana Tolentino offers a very subtle take on notions of Hawaiian space and place, starting with creation itself and resolving via allusions to a global interconnectedness. In between she presents and turns the nuances of the Hawaiian language away from us, teasing without exoticizing, challenging without claiming superiority, by relying on the generous cruelty of the ocean itself. Blaine Namahana Tolentino lives and works in Hawai˜i. She publishes poems and articles about Hawai˜i and her experiences as an indigenous thinker situated in a modernizing home place.
A HONOLULU SENSE OF PLACE
Annie Koh
"Sense of place is often used as a marketing ploy that promises the œartificial flavor of a place, a postcard version with only the glamour and none of the grit. Trying to manufacture and maintain a Hawaiian sense of place leads to Honolulu City Council™s attempts to legislate poverty out of view through sit-lie ordinances, lest tourists be shocked by homelessness that is way off-brand for a tropical paradise. Honolulu residents are not immune to this story of paradise; we repeat hashtags like #luckywelivehawaii as if they were incantations to dispel the reality of traffic jams and unaffordable rents. "
Annie Koh provides us with a concise description of Honoluluʻs urban schizophrenia, iterating on previous authorsʻ takes on the fundamental contradictions that characterize contemporary life in the urbanized tropics. Her brief and well-targeted connections to the work of Tropical Disturbance artists Maya Portner and Sean Connelly directly illuminate the pathways between the show and the concrete conditions that produced it.
This exhibition is made possible by: the Andy Warhol Foundation for the Visual Arts; California Arts Council; Creative Industries Division of the State of Hawaiʻi Department of Business, Economic Development and Tourism (CID/DBEDT); Grants for the Arts of the Hotel Tax Fund; The Kenneth Ranin Foundation; Pacific Air Cargo; and the San Francisco Art Commission.
Special thanks to HonBlue for sponsoring the printing of Alison Beste™s œOil Tanker Sunset postcards and to media sponsor Lei Culture.