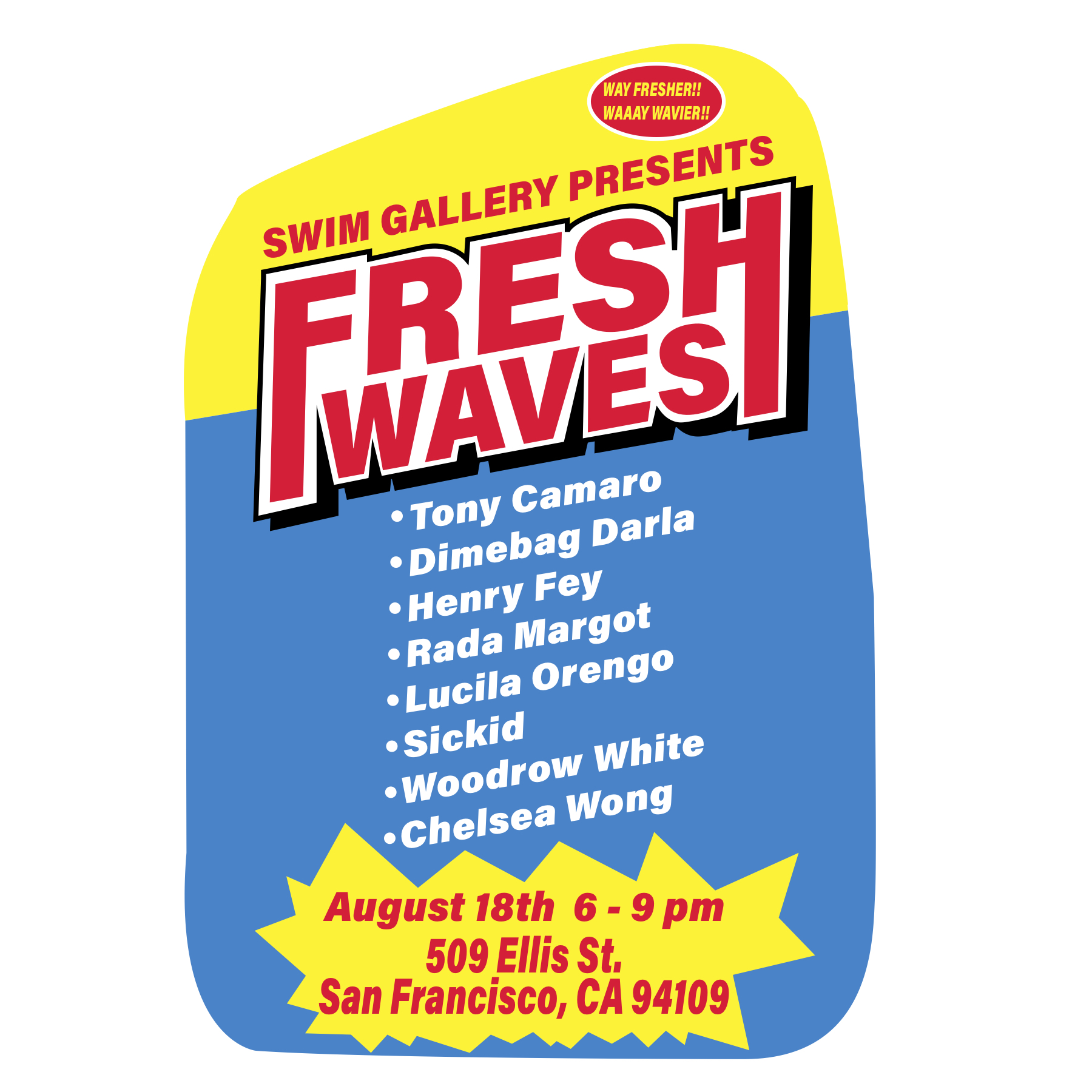 Flyer by Gary Paintin
FRESH WAVES
August 18 – September 8, 2018
Gallery hours: Wed – Sat | 12-5pm
SWIM Gallery is pleased to present œFresh Waves, a group exhibition curated by Auguste Somers. The show features eight artists, many of whom are showing with SWIM for the first time. Included in the show are: 23 year old Los Angeles artist, designer, and creative director Tony Camaro; Oakland-based painter Dimebag Darla; Henry Fey, a 24 year old abstract painter from Los Angeles; LA-based sculptor Rada Margot; Argentinian designer, photographer, and artist Lucila Orengo; Los Angeles graffiti artist Sickid; Magical Realist artist Woodrow White; and San Francisco multidisciplinary artist Chelsea Ryoko Wong.
Fresh Waves showcases a group of young diverse artists who express their cultural, social and political ideology through art with themes of modernization, isolation, love, and working class struggle.  The exhibition features figurative and abstract painting, street photography, sculpture, as well as works influenced and informed by street art and youth culture.
The artists featured in this show are:
Tony Camaro is a 23 year old Los Angeles based artist working in Fine Art, Fashion, Design and Creative Direction. After attending The San Francisco Art Institute within their New Genres department, Tony was accepted into the AICAD / New York Studio Residency Program in Dumbo, Brooklyn where he focused on painting, sculpture and fashion. Tony now lives back in LA where he has continued both his Fine Art and Fashion practices. Tony is incredibly inspired by today's youth culture – a lot of his work relates to childhood, playfulness, and the streets of LA. Tony uses the streets for inspiration, painting on pieces of wood and canvas that he finds in the city. œI don™t have a lot of money or resources and so I use the streets as a means to keep creating – I feel like it gives my work added life and energy.
Dimebag Darla is a painter born and raised in Oakland California. She studied painting and new genres at San Francisco art institute.
Darla was first introduced to art when she snuck into her brother™s room and observed her brother™s black book, from that she started teaching herself to draw.
Gentrification is vastly moving into the town of Oakland and it™s one of Darla™s major obstacles she encounters with everyday. She is inspired by the Bay Area music scene, political movements such as Black Lives MATTER and sometimes experiences of her own to tackle these unfortunate situations, such as police brutality and the displacement of families native to those communities. Darla is also a Xicana street artist who deliberately paints her face all around the Bay Area, which makes her unique. Darla wants her audience to also fight as hard as she is against the patriarchy. Darla™s major influences are dead rappers, painters, activists, and graffiti artists.
Henry Fey ( b. 1993 Los Angeles, Ca ) is an artist living and working in Los Angeles. Using painting as a tool, he draws from his surroundings and decontextualizes images through abstraction.
Rada Margot (b. 1991 in St. Helena, California) lives and works in Los Angeles, CA. She received her BFA in sculpture from the San Francisco Art Institute in 2015. Working primarily with textiles, wood, and casting materials, her work is influenced by 60™s kitsch culture, bay area funk, pop art, analog technology, minimalist and abstract expressionist painting, upholstery, and the hardware store. Often utilizing humor, she evokes a playfulness that comes with a shift in scale and material. Her work is able to traverse between the moderately utilitarian, the figurative, and the fully abstract. Her previous exhibitions include Bass and Reiner, Guerrero Gallery, Luggage Store, and Good Mother Gallery in Oakland, CA.
Lucila Orengo was born in Argentina and lived in Ireland, Pakistan, Spain and Canada before moving to her current home in Oakland, CA.
A designer by trade, she considers drawing and photography extensions of her design practice. Ever since picking up a camera and experimenting in the darkroom as a teenager in Pakistan, she™s explored a variety of themes and techniques in her work.
A current interest involves documenting the rapidly evolving Bay Area"and Oakland in particular"by photographing them under natural light. Always informed by design, Orengo gives color and composition center stage in her work.
Sickid started off as a wheatpaster in 2012. Initially perpetuating an image of a rat fink-esque hoodlum in a flipped baseball hat, then transferring to doing graffiti which allowed larger scale works. Since then his work has evolved into a world inspired by the culture from lower income neighborhoods in los angeles, erotica, alternative animation, and religion. The work often has an element of on-the-surface, petty humor and taboo situations which are complemented with saturated colors. There are often recurring objects and characters allowing for more of a cohesive narrative between each piece.
Woodrow White is an artist from Los Angeles, California. He received a BFA from California College of the Arts (2014), and has shown in galleries in New York, Nashville, San Francisco, Oakland, Los Angeles, and New Zealand. White creates magical-realist narratives in his work that explore the push and pull between reality and make-believe. His art has been featured in publications and websites such as Hi-Fructose, Juxtapoz, Booooooom, The Hundreds, and BoingBoing. He currently lives in Oakland, California.
Chelsea Ryoko Wong (b. 1986) is a multidisciplinary artist based in San Francisco. Her work reflects contemporary culture and life"exploring everything from current events to local politics; love and the meaning of life. Figures intersect and mingle, creating a complex and lively narrative. Wong™s work has been praised as vibrant, enigmatic and full of curiosity, all with a slyly humorous bent. Wong began her studies at Parsons School of Design (New York, NY), and finished at California College of the Arts with a B.A. in Printmaking in 2010. She is the first recipient of the Hamaguchi Emerging Artists Fellowship award at Kala in Berkeley, CA. She has exhibited across the United States, Europe and Asia.
SWIM Gallery is a pop art gallery created by Yarrow Slaps and Auguste Somers and is  located at 509 Ellis Street in San Francisco as a project of the Luggage Store Gallery.
300 dpi Images: