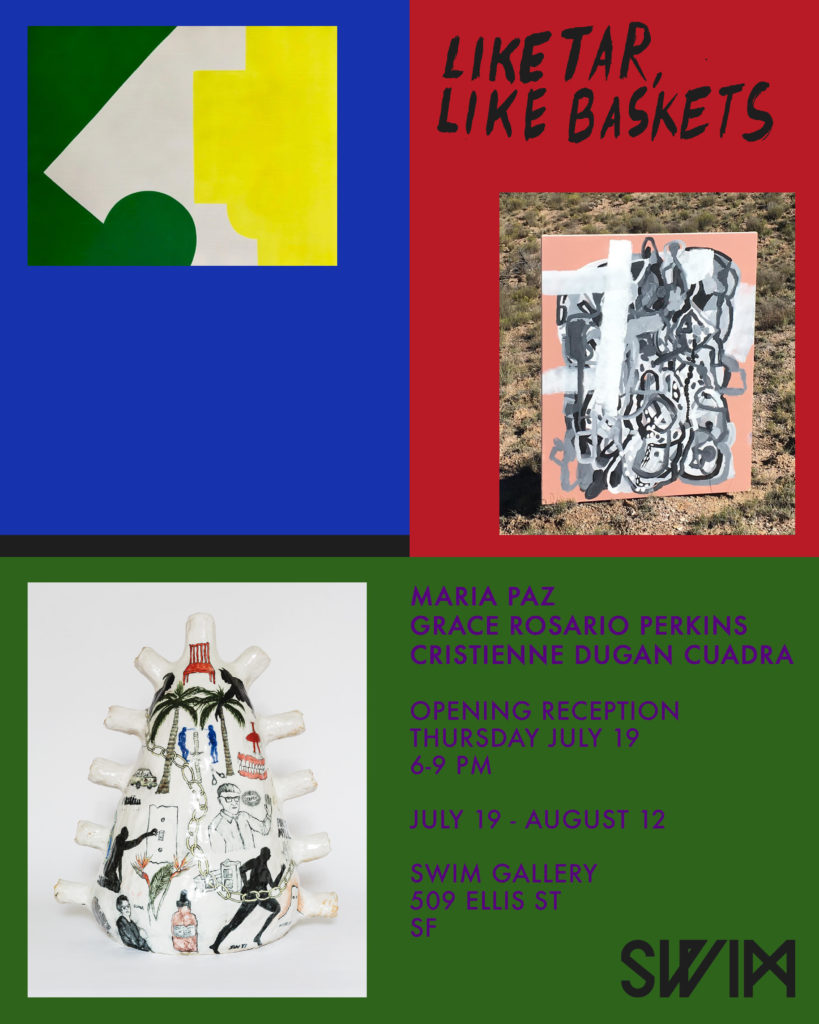 Like Tar, Like Baskets brings together new works in painting and ceramics from Maria Paz, Grace Rosario Perkins, and Cristienne Dugan Cuadra. Please join us at SWIM Gallery on July 19th from 6 to 9 pm for the exhibition opening.
Paz and Perkins™ individual practices explore their respective familial histories of being taken from land and land being taken. Like Tar, Like Baskets includes the two artists™ first collaborative work together, a piece that pays homage to the sacred elements of their native lands by combining Perkins' abstract color work with Paz's symbolic images.
In Like Tar, Like Baskets, Dugan Cuadra, Perkins and Paz utilize color to express the brightness of light, the experience of indigeneity, and the intimate pictorial history of familial healing. Perkins™ work is abstract and plays with language and color, Dugan Cuadra's explores light through color, and Paz's is dense with the color and images of her past.
Ancestral history sticks like tar. Baskets contain the fruits of our labor, hold information, and preserve contents.
About the Artists
Grace Rosario Perkins (b. 1986, Santa Fe, New Mexico), is an Albuquerque and Oakland-based artist who has spent most of her life living between city centers, as well the Navajo Nation, and the Gila River Indian Community. Her work examines cultural dissonance, disassembling and rebuilding personal history through explorations with color, abstraction, and language. Perkins™ practice, which includes painting, printmaking, sculpture, and performance, is highly collaborative and often made with family members such as her father Olen Perkins, and artists from her indigenous and DIY communities.
Maria Paz (b. 1989, Quilpue, Chile), is an artist based in Oakland, CA working primarily in ceramics and painting. Her practice draws from the analysis of material culture practiced in Archeology. By creating illustrative sculptures, Paz aims to archive her path to familial healing in addition to her personal encounters with migration to the United States. She uses the symbolic imagery of her past and present life to reveal the fabric of her intersectional identity; an homage to the ceramic artifacts left before us.
Cristienne Dugan Cuadra (b. 1976) is a San Francisco native who is based in Managua, Nicaragua. She received her BFA in New Genres from SFAI in 2006. Dugan Cuadra has shown at the Oakland Museum and is exhibiting new works with Swim Gallery after taking an 8 year hiatus. The artist's new works focus primarily on light and the absence of light, a theme that parallels with her new initiation into becoming a Santeria Priestess.