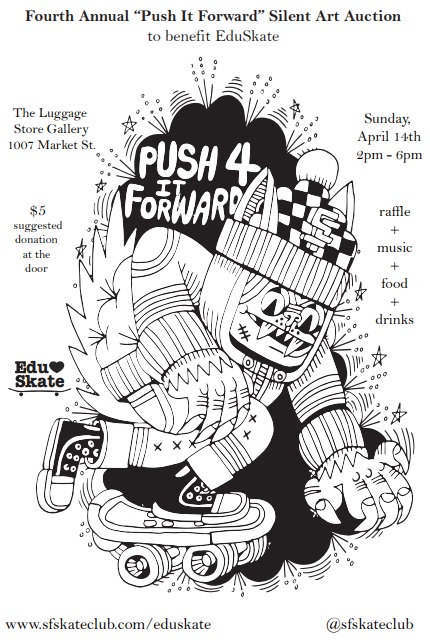 San Francisco Skate Club proudly presents Push it Forward 4 art show fundraiser to benefit EduSkate, a youth outreach and after school program that harnesses the liberating power and creativity of skateboarding to provide educational and transformative experiences for youth.
The fourth edition of this highly anticipated annual silent art auction showcases new and original works on skateboard decks by over 80 emerging and renowned artists, most of whom are rooted in contemporary street art and skateboarding subculture. Art aficionados and philanthropic attendees will have the opportunity to cast bids on bold and beautiful art as well as other generous gifts from beloved skate companies and distinctive local businesses.
The event takes place on Sunday, April 14th from 2-6pm at the Luggage Store Gallery – 1007 Market St. $5 suggested donation at the door.
All money collected – at the door, at the bar, for the art- will go directly back to keeping our EduSkate programming open and accessible for our youth.
EduSkate is a program that is fiscally sponsored by Social and Environmental Entrepreneurs, a non-profit 501(c)3 organization. Your gifts are 100% tax-deductible. If you cannot attend and would still like to make a donation, then please visit our website at www.sfskatclub.com/eduskate