AMY TRACHTENBERG



Covered in Sky


June 14 – July 13, 2019
Extended to August 10!
Gallery Hours
Wednesday + Thursday 2-7 pm
Saturday 1-5pm or by appointment
Please call 650.451.9366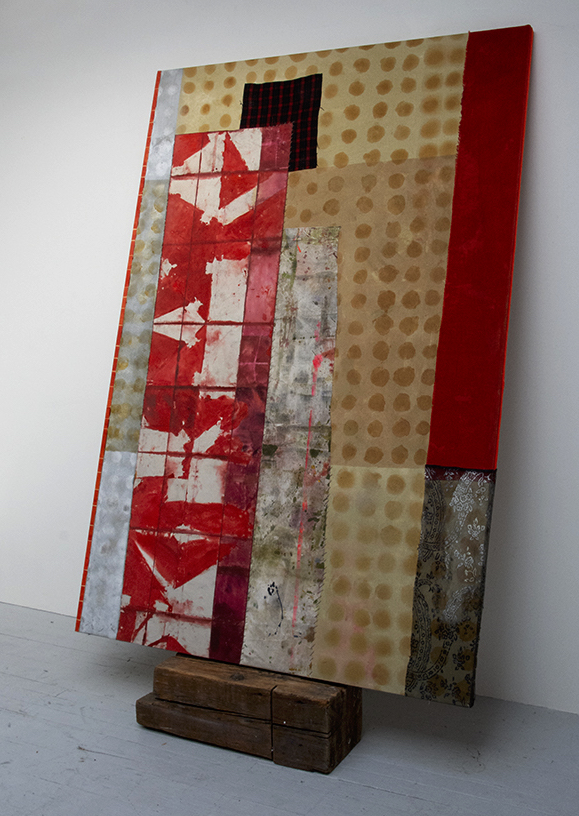 Covered in Sky features large and smaller scale paintings and sculptural work. Trachtenberg™s work focuses on the primacy of color, pattern and how materials communicate. The social, cultural and political find their way into her work in languages of abstraction. The constructed paintings draw on labor, craft, tactility and history.
According to the artist, œI™ve been long invested in the history, symbolic values and pervasiveness of textiles. My affinity for cloth runs throughout the work " at once precarious and vulnerable, public and intimate. Generations of men in my family were traveling salesmen in the so-called rag trade. This connective tissue in my work goes back to my childhood with heaps of swatches and truncated parts of garments as material sources rich with ancestral associations.
In one of Trachtenberg™s giant sculptures, Standing on One Leg Swallowing the Mountain of Appearances, 2019, we find thick cuts of jaundiced foam doubled over squished, piled and bound onto a mobile cart. Soft spongy pieces are strapped together to form a totem pole of sorts, an ode to an underground tribe of migrant dwellers. Widowed shoes are wedged between foam layers. The ceiling-high column will ascend into the skylight of the gallery. Another sculptural work is a stack of loosely folded garments that will fill a tall, narrow gap in the gallery. The column of red-hued fabric speaks to Trachtenberg™s approach to color and material: playful, unexpected, and at the intersection of history, social issues, and artistic experimentation
Trachtenberg™s large-scale 2D works are just as complex as her sculptural forms. The artist™s toolkit includes everything from bicycle tires and inner tubes, to zippers, bedding, found photos, textile remnants, briefcases, baby clothes, hardware and studio drop cloths. Marks on the canvas are made by way of many techniques, including stenciling, printmaking, resist dyeing, and quilting. Tactile layers build up to form surfaces worthy of geological study. In her hands found materials are combined and transformed into power objects, with great attention paid to that which has been lost, abandoned and forgotten.
Amy Trachtenberg is a San Francisco based artist working in painting, sculpture, installation and public art. She received a BA in French Language and Liberal Studies from The Hutchins School at California State University Sonoma followed by the Diploma of Fine Arts from L™Ecole Nationale Superieure des Beaux Arts in Paris. Absorbing the world while living and traveling in Europe, India and N. Africa, architecture and the histories of ornamentation were prime focuses.
She was also influenced by her work with soft materials in the studio of artist Sheila Hicks where she assisted in fabrication and installation of work at the architectural scale. Trachtenberg™s work has been shown and is in private and public collections including The Berkeley Art Museum/PFA, The Achenbach Collection of the Fine Arts Museums of San Francisco, The San José Museum of Art, The Crocker Museum, The De Menil Collection and The Haitian Embassy in Paris.
Her engagement in design collaborations includes many permanent public projects such as Groundwork, for a San José library, Counterpoint at Montalvo Arts Center, Saratoga, CA and Ecstatic Voyaging in the new 1000™ long BART Station in Milpitas, CA opening in late 2019. She has designed sets and visual elements for over a dozen theater, opera and dance performances.
Friday, June 14 | 6-8pm
Opening Reception

Saturday, June 22 | 3pm
Artist Talk

Saturday, June 29 | 7pm
Improvisation by animals & giraffes. Phillip Greenlief (saxophone), Claudia La Rocco (text & voice) with Amy Trachtenberg (visuals)

Saturday, July 13 | 2pm
Beth Custer performs solo clarinet

300 Dpi Images:
Media + Articles
Cushion Works (11 June 2019) "Amy Trachtenberg – Covered in Sky"
JWeekly (12 June 2019) "Summer has landed in the Bay Area, bringing new art with it" by Laura Paull
Square Cylinder (19 July 2019) Amy Trachtenberg @ Luggage Store by Maria Porges