Rabbit Garcia



Children's Playground



July 26 – August 31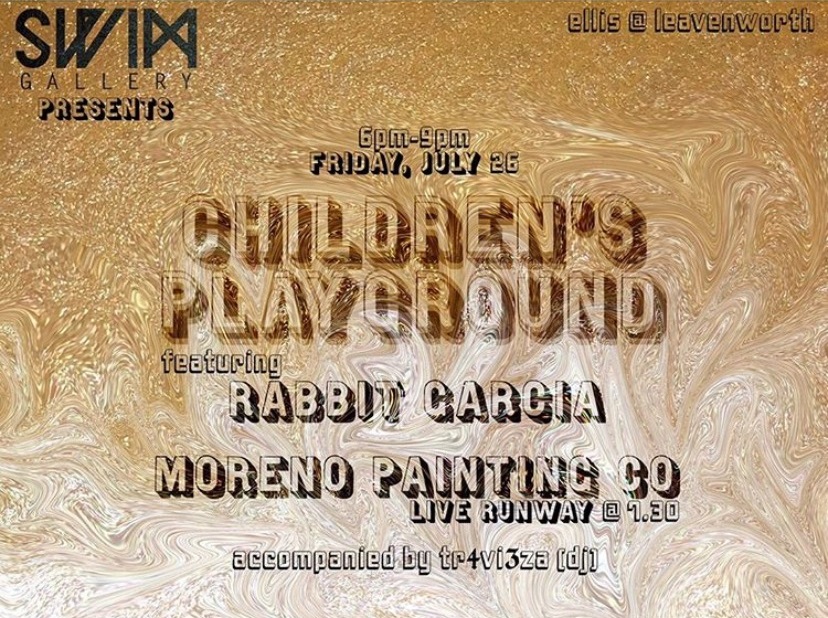 Opening Reception
Friday, July 26 | 6:00 – 9:00 pm
Live Runway show by Moreno Painting Co., music by tr4vi3za | 7:30 pm

Gallery Hours
Wednesday – Saturday | 12:00 – 5:00 pm
Society has historically seen the violent force that police have used against the LGBTQ+ community. They used severe policies and systems of interlocking oppression used to destroy us, but we have always fought back. Rabbit Garcia™s new sculptures are inspired by the 50th year anniversary of the Stonewall riots in New York City in 1969 which was inspired by the famous Compton™s Cafeteria riots that happened in San Francisco three years prior. The riots were some of the first recorded direct actions of LGBTQ+ activism in the United States. The title of the show, œChildren's Playground, pays homage to all the elders of the queers community that come before him and what he considers to be his chosen family; the ones that look after us and guide us in order to keep us safe. They teach us how to navigate a system built against us.

Here we are, 50+ years later, and still fighting to be treated with respect and dignity. Rabbit™s new work is a celebration of the courage and resistance those individuals showed the rest of the world. His new collection celebrates all bodies, identities, and self-expressions of resistance which is exemplified in his concrete guns molded from 99 cent store toys. This plays with the title œChildren™s Playground which alludes to the brick a trangender woman used to defend herself during the StoneWall riots. Garcia sculpted figurative forms to build a small autonomous army of bodies that will soon grow in numbers. One of those figures is raising their fist to the air in solidarity with all QUEERS around the world.
Martin Olivares, (aka Rabbit Garcia), is an interdisciplinary artist working in drawing, painting, and sculpture. Recent work involves the use of found objects that he recontextualizes to call attention to foreign histories that are in the process of being forgotten. Olivares is interested in giving new meaning to old physical memories that have been disconnected from their origins. His work divulges narratives that are not distinctive to his own story. Subjects include trauma, displacement, and the process of healing from these histories and narratives. Through his work, Olivares aims to create new contexts for these experiences through the investigation and manipulation of found materials. 
Moreno Painting Co. is a manufacturer of bespoke, gender inclusive clothing and accessories made from reclaimed materials. Designer Justin Moreno draws influence from a background in men™s tailoring and house painting to design gender neutral fashion pieces with a utilitarian sensibility. Men™s and women™s tailoring is the foundation for the latest collection which strips the suit of its formality by deconstructing and reconstructing its essential components. The collection centers on the concept of protective clothing and exterior appearance as a defense mechanism, to confuse, intimidate, disappear or protect. Accessories made from protruding plastic remnants, metal hardware and alligator teeth lend to a more dangerous appearance while doubling as weaponry. As a supporting designer for Gypsy Sport, Moreno™s work has been published in Vogue, Paper, Flaunt and People magazines, The New York Post and The Wall Street Journal.