BRANDON THOMPSON



Yea I Think I'm All That


November 16 – December 15

2019




EXHIBITION EXTENDED THROUGH JANUARY 4TH, 2020

Please call 415-340-2690 to make an appointment between

December 21 " 25, 2019.



SWIM Gallery
509 Ellis St.

Opening Reception
Saturday, November 16
6:00 – 9:00 PM

Gallery Hours
Friday and Saturday
12:00 – 5:00 PM
and by appointment (415.340.2690)


SWIM Gallery presents Yea I Think I'm All That, a solo exhibition of Dallas based visual artist Brandon Thompson. The exhibition runs from November 16 through December 15, 2019. Please join us on Saturday, November 16 from 6-9 PM for the Opening Reception.

Statement from the Artist:

My practice consists of two-dimensional and three-dimensional. I produce acrylic and oil paintings, also clay sculptures. My work is inspired by the neighborhoods and culture I grew up in. That being the Cedar Hill and the South Dallas County area, and the lifestyles of those neighborhoods. Taking references from the fashion and hairstyles, slang, music, heroes, and everyday events, then re-imagine them into colorful paintings and sculptures. Some of my references come from biblical stories, inside jokes, African American history and literature. My goal is to create visual stories from my perspective in a way that can be identified by those within my culture. Also to change the negative connotation that may be associated by some people that see the culture (slang, sagging pants, rap music, etc) from the outside. Through these artworks I want to create realistic and surrealistic imagery to show the feeling of belonging and not belonging. I want to show a more playful side of African American males that is not normally portrayed by the media, by creating bright, colorful, fun paintings.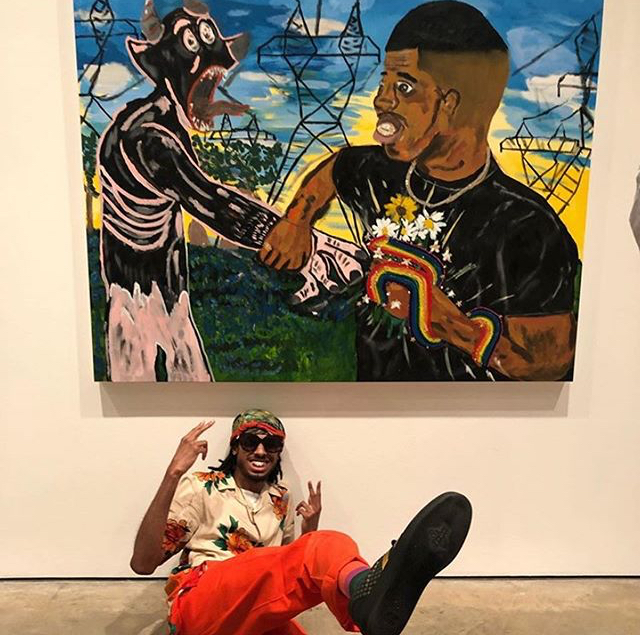 Brandon Thompson (@brndnthmpsn) is self taught artist based in Cedar Hill, TX. Who creates colorful paintings and clay sculptures. He began painting in 2017 as a way to get away from the digital work from studying Visual Communication at the University of Texas at Arlington and found the medium the most effective. His work is inspired by African American culture, neighborhoods of the American South, music and his own personal life.